Fairway Kansas Estate Sale
The Home of Karen Marcus
November 12-14, 2015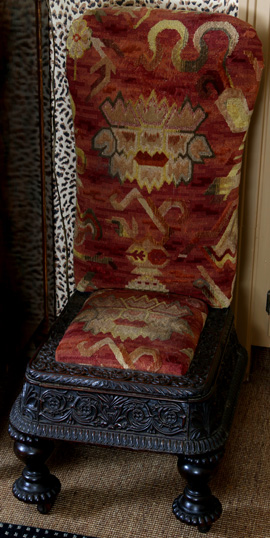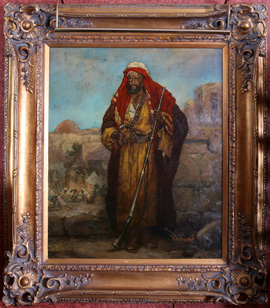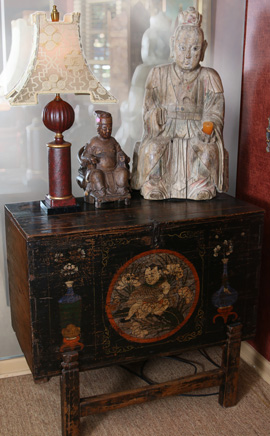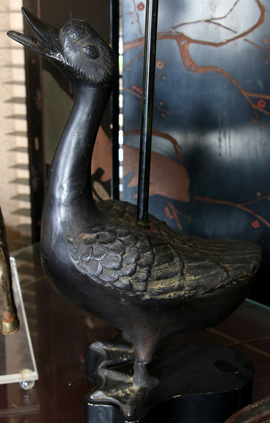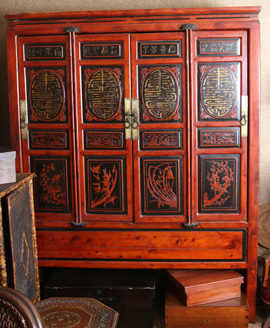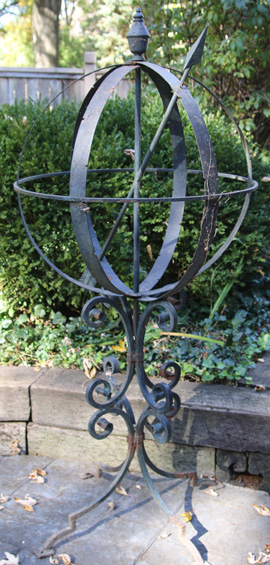 Karen was a very well known interior designer around the city but she also created designs for homes in Arkansas, Colorado, California, Florida, Long Beach, Chicago, New York City, Martha's Vineyard and The Bahamas. Her design for a Colorado home was featured in Architectural Digest in November 2005.

Her own home is filled with Fine Furnishings, Decorative Accessories, Art, Lighting and Antiques while her garden and patio feature Iron, Statuary and interesting found objects.
A portion of the proceeds from this sale will ​be donated to two of Karen's favorite causes, Wayside Waifs and The Humane Society of Greater Kansas City.
Fine, Fine Furniture
19th century British colonial carved cabinet with large raised oval sunburst pattern doors, rope twist edges and floral carvings
An exceptional tooled leather covered four drawer serpentine front chest
A faux tortoise four drawer chest
Pair of matching sofas by Sherrill Furniture
Pair of matching upholstered armchairs by Sherrill Furniture
Pair of leopard pattern upholstery slipper chairs with button tucked backs
Pair rattan bergere chairs
Rush seat Windsor style armchair circa 1930
Pair of tall Asian cinnabar colored two-door cabinets
Antique carved Chinese table with lacquer panel
Asian four door cabinet
Victorian foot stool with leopard skin
Several Asian folding screens
Great pair of trapezoidal Asian cabinets with split bamboo fronts
Tall narrow antique Asian chest with 12 drawers
Set of four Mahogany neoclassical arm chairs with black leather down cushions
Intricately carved teak folding screen
Painted Asian lift top wood trunk on stand
Pair 1940s mirrored regency style stands
18th century tripod tilt top tea table
Oversized ottoman with wicker base and upholstered cushion top
Paisley pattern covered low sofa without arms
Large, long two drawer library table
Early 18th century lift top coffer
A carved and pickled wood blackamoor like figure
A great bamboo frame lacquered panel tall, narrow cabinet
Five drawer 19th century European pine chest
Full sized bed
Multi door Korean chest
10 drawer lacquer Asian chest
Antique Chinese Yoke Back Chair
Decorative Arts, Textiles, Taxidermy and Myriad Unusual Variety
Pair of Japanese Meiji period shell-Game Boxes (Kaioke)
Many different types and styles of lamps and lighting
Antique Tekke Turkoman main carpet approximately 6' x 8'
Antique dome top leather trim travel trunk
Lacquered and brass bound Asian boxes and small trunks
A selection of nice designer fabrics and yard good
Many antique paisley shawls and table coverings as well as other interesting old textiles
Unusual long ethnic dress with satin and beaded sleeves
African Gerenuk Shoulder Taxidermy Head Mount
Goat Head taxidermy Mount
Antique Figural Camel Inkwells
Many Lacquer Boxes, Trunks and Small Chests
Asian barrels in containers that serve as stools and waste baskets
Tons of different boxes and small trunks of many different origins and techniques
Small collection of various type match strikers
Wicker boxes and small trunks
Variety of hand-colored and other framed prints
A carved and pickled wood blackamoor like figure
Vintage hat boxes
Interesting carved and painted ethnic dolls
Antique mechanical turtle form cuspidor
Turquoise crosses
Asian Reverse painting of prince on horseback
Tribal Cravings and Weavings
African tribal carvings and other objects
Turtle form food graters
Mounted shell caviar dishes
Extremely ornate carved teak frames
Several different head of Buddha figures
Lacquered Asian garden seat
Inlaid bone British colonial octagonal top table
Carved wood gong having a heavily carved frame with Buddhist figures
Pair Tibetan brass Foo Tiger Dogs
A variety of large and small baskets from various cultures
Large full-bodied sheet metal deer with candle holding antlers
Many different sizes of pillows with various textile coverings
Many stag antler handle articles including carving sets, jiggers, corkscrew, etc.
Interesting European and South American pottery tableware
18th C. carved wood Saint figure with old paint
Interesting chopsticks
Miniature French Breton style carved wood chair circa 1920
Silver stuffing spoons
Ornate handled salad sets including Grand Baroque pattern
Bone handle and other ornate and unusual flatware serving pieces
Crystal stemware and dinnerware
Dansk brightly colored enamel cookware
Unusual silver boxes and serving pieces
Cocktail shakers
Silver-plated champagne buckets
Turkish scatter rug with large central medallion
A portion of Karen Marcus costume jewelry priced outright
Great Outdoor Iron and More
Antique ornate iron console with slate top
A 5 foot tall Eiffel tower model
A great pair of iron mesh circular drum tables
Strep iron bench with square forged iron arms
Ornate iron wall hanging planter
Iron outdoor patio bench
Large iron clock dial face with Roman numerals
French folding iron and wood café chairs
Slightly neoclassical style iron Recamier
A large wrought iron Armillary Sphere
And eight arm iron and tole tree with birds
Cast and molded figure of Buddha on similar plinth
Interesting tin and glass lanterns
Modern mesh patio arm chair and footstool pair and chaise pair
Matching pair approximately 6 feet tall topiary frames
Antique iron plow converted to standing flower basket
Large terra-cotta jar
Clothing , Housewares, Appliances and Miscellaneous
Ladies shoes furs and handbags
Kenmore 90+ Series washer and dryer
IronMan CL150 inversion table
Aussie Bondi II Deluxe gas grill
Selection of miscellaneous expensive and usual wrapping paper, ribbon, gift boxes etc.
Large gold and other colored Christmas ornaments
Vintage cameras
Large green iron rubber tire yard cart
Radio flyer red toy wagon
Woodard style and circular table
Mexican and European Pottery Tableware