---
August 7, 2019
Hi Dirk, Jody and Todd were amazing! They were here on time and did all the photos and wrapping and were gone in a flash! They are both delightful and I am dazzled by the courtesy and efficiency of your business operation. I signed the agreement. As to the issue of the "reserves" I have decided to leave that entirely in your hands.
1. we both have the same goal
2. you have the necessary information and perspective on the realistic values of these items where as I have no knowledge along that line.
3. I am not emotionally "attached" to any of these items
So I leave the matter entirely up to you. Many thanks Laura

---
August 7, 2019
Dear Soulis Auctions I just wanted to touch base with you, to let you know I received the items I purchased from your Auction. All the items arrived in perfect condition, and packaged beautifully, you have a fantastic group who does your packing and shipping just unbelievable the time put into each piece and care, I can not Thank you enough. Thank you again, and please thank your packers. Respectfully Joseph S. Middleboro MA

---
July 25, 2019
Just complimenting you on your online catalog. First time seeing them. Great visuals and really easy to look at. Takes a lot of work to do that, I think. Great job! Sincerely, Michelle [...] California

---
June 24, 2019
Judy good morning !! We just received malachite vases lot 3249. Thank you . Respect !! From now I will work with your auctions every time . Professional in house shiping !! very happy . You hear from us again !!! Please let me know if you have ore will have more malachite items .

---
May 28, 2019
I appreciate your going the extra mile on my behalf. I love the painting. Rich
[ $30 Starbucks giftcard included in card ]

---
April 30, 2019
Dirk and team, I'm very pleased with the selling price and was really happy with the listing and photos. Your photos revealed the beauty that had been covered in a layer of dust in the corner of my garage for the last five years. Thank you for making this process so easy, and I hope the new owner cherishes these midcentury jewels. Warm regards, Becky

---
April 28, 2019
To Soulis Auctions
Yesterday I purchased 3 Montgomery Paintings as a phone bidder at your auction to add to our Illinois Folk Art Collection. While I have been a phone bidder and bidder at many auctions yesterday was a delightful day & experience. And that was due to Faith Hensley. She handled all of my bids professionally and in a timely fashion. Thank you Ms Hensley. Please pass this card on to her with my thanks - Bob

---
April 16, 2019
RE: Town of Lakeville memorabilia
Dear Christy, We would like to thank you and your customer for taking the time and effort to forward the historic glass print and photo of the Town of Lakeville's train depot station. Your dedication and follow through in getting this historic piece back to our town is greatly appreciated and we will display it in the hallway of our newly updated Lakeville Town Hall. Thanks again for your efforts!
---
December 8, 2018
My little lost cabinet came today. YAY!!! It looks great! As always thank you so much for having the best auction and shipping department on Live Auctioneer. Merry Christmas, Happy Hanukkah, and a Happy, Healthy, Prosperous, New Year! Ramona

---
October 29, 2018
Hi, We received the castor today. I refunded you your postage through Paypal. I am mailing you a check for the cost of the castor and buyers premium in the amount of $200.60. Sorry for the inconvenience. Thank you, Christy, Soulis Auctions

Hi Christy, I received the check for the refund and want to express my thanks for handling this so well. You are one of a very, very few auction houses who would have addressed this matter in such a customer friendly manner. As a full time dealer I do a considerable portion of my business by auction, both on line and in person. Soulis Auction is certainly one of the finest I have dealt with in my many years in the business. Thank you. Regards, Brian C.

---
October 19, 2018
Hi Christy, Thank you all for the wonderful packaging job you have done... it is impressive and one of the best I have ever seen. I have been buying antiques for a long time but the job you have done, by far, is one of the best and is of a much superior quality... my items arrived safely and in one piece and you deserved every penny for your fabulous job.... Simply thank you. Sincerely, Alexander

---
October 18, 2018
Thank you very much for the shipping on these items. We will be buying more next time from you at the Auction. We are Dealers and we buy for resale. We appreciate the reasonable shipping very much. At least one out of 5 auction houses online has outside shippers who charge so high on the shipping we can't afford to bid on the items. We enjoy the business very much, but as retirees we have a limit we can pay. We appreciate you being so kind to do the shipping so we can still participate in the auctions. Many Thanks & hope to do much more business in the future. God Bless, Carol & Tyrone

---
October 15, 2018
Transcribed from a :
"Greetings Mr. Soulis; Thanks again for your great job in selling my brother's [...] collection last year. I have enclosed two photos of my sister-in-law's turquoise neckless she is wanted to sell. You may or may not be interested, it's only one item. She was so impressed with what you did with my brother's collection she has ask me to contact you. The neckless is 17 inches long on a gold wire, pictured with a 13 inch ruler. Could you give me a ball park figure as to about how much you could give her? She then can decide if she would send it to you. You can send your reply to [...] - Don"

---
October 12, 2018
Hello Dirk, You won't remember me (and that's OK) but I was at a large train [full sized and tons of models] auction at your place a few years ago. I was most impressed with your facility, the organization of the auction and most of all, your people. Now I want to give a heavy compliment to your web site for the upcoming Birk auction. I've never seen an auction website that is easier to navigate and offered such large photos and great videos. Truly a top flight operation. While you're a bit of a drive I would be out there for the auction, except my wife has just had her second back surgery in 3 months and I need to stay close to home. My point is: you run a first class operation. Bruce

---
October 3, 2018
Jody, Unfortunately there was another bidder who wanted this item more than I did but I had fun and added several k to your final price. I want to thank you and your fellow employees at Soulis Auction. It was a pleasure working with a professional team like yours. Best of luck, Bruce

---
October 2, 2018
Hello: I just wanted to take a moment to commend the efficiency of your company. I have participated in many online auctions, and the majority are disorganized and non-communicative. Most times, the excitement from winning turns into frustration in waiting for an invoice and dealing with third party shipping delays and expense. Thank you for making this transaction a real pleasure and I look forward to your next auction. Best regards, Stephanie C.

---
September 28, 2018
The photos are well done and useful, thanks! If only all houses were this responsive and capable…. Thank you, and best wishes, - David G.

---
July 25, 2018
Hi i thank u gor your trade you are very good auction realy i received.my box in very good wraping thanks do much Maged, Egypt

---
July 20, 2018
I received my dolls. Beautiful! They were wrapped and shipped with perfection! Thank you! Dawn ;)

---
July 5, 2018
The Roland sculpture arrived. He's great. Many thanks Jeff

---
June 28, 2018
Dear Soulis Auctions, My name is Joseph St. Jean I was buyer # [...] internet. I wanted to take the time to say Thank you. I received 2-of the items I purchased from your last Auction Item # 129 and Item # 132. 2 Bronzes that were just delivered by Fed Ex. the 2-items arrived in perfect condition, and packed beautifully. The only item I am waiting for now is item # 367 Copper parrot cigar cutter which I believe is coming by UPS. So Thank you again it was very much appreciated, and please thank your packers for doing such a great job. It makes purchasing items at your Auction w/ confidence that the items will be packed w/ care. Thank you. Joseph

---
June 23, 2018
Good morning Dirk Soulis, and esteemed associates, team, Congratulations on another successful Soulis Auction. Your trademark is success, and byword is professionalism. Let me a special thanks to Bob, and the other gentleman who assisted me with packaging, and loading. It was good to acquire the marble topped table; but there was real anxiety for me in the loading of it into my car. Bob is truly the engineer. My compliments also to your cashier. A significant part of your genius is putting together the right team; and with that you have done an amazing job. ... Again allow me to express my appreciation for an extraordinarily well done event. Best wishes, Berry, Arkansas

---
May 3, 2018
Hi Christy, The Moonlit Blue vase arrived and we are thrilled, not only the beautiful condition exactly as described but also your excellent packing, using DHL it arrived to us in the UK in just 4 days. Wishing you continued success. Kind Regards, Richard.

---
March 31, 2018
Hi! First of all, I wanted to say how well done your website is, a joy to browse as items are fully described and especially well photographed. Makes it so much easier to bid from afar. Thank you! I was hoping to bid on this painting, lot 142, and would, therefore, like to ask you for some additional photos. In particular, without the frame from front and back, showing some of the sides with nails and what have you. Any ideas of the period? Provenance? Your help with this is greatly appreciated! Marc, Rome, Italy

---
March 22, 2018
Dirk - Thank you for displaying my father's beautiful painting on his easel. Thank you for what you are doing for our family. Regards, Patricia E

---
March 12, 2018
Hi Dirk and Jody, Overall, we were very satisfied with the results you achieved for us in the sale on February 17. Last time, you will remember, you paid the proceeds into our Wells Fargo account at a branch near you..... Thank you very much. We hope you are both well and that business is good. Kind regards, Stuart, Seaford Britain

---
January 26, 2018
Just some quick feedback. Your descriptions are good, and your offer of seamless shipping is very welcome! Dealing with third party shipping is a big turnoff for a lot of potential bidders. Thank you! Kenneth H.

---
January 12, 2018
Hi ! ​I inform you I received today my item in perfect condition and thank you very much. ​I wish you a very good year. ​Kind regards Léopold, Paris, France

---
December 3, 2017
Dirk, Thank you for all that you did to make yesterday's auction the success that it was! Please thank Sue and your staff from me also. This will help out with ensuring that my mom continues to get the best care that she deserves. The memory care facility that she is at was built less than a year ago, and was specifically designed for people with memory needs. The cost of this facility is great. As a result, going forward, we would like to continue to have auctions as we are able to put them together. ​On the horizon:.... Randy D.

---
November 10, 2017
Hi Christy, The item arrived and you guys really did a great job packing for shipping in fact a bit overboard , no complaints at all. Thanks so much again and i hope to bid more in the future. Nice to deal with efficient and careful people with merchandise. very best wishes Eva

---
November 2, 2017
Received my clock today, with thanks. You should give lessons to the "professionals" - UPS stores, Pacmail etc. - talk about bullet proof packing and at a reasonable price. I look forward to your next sale. Again thanks, MICHAEL​, CARROT RIVER, SASKATCHEWA, CANADA

---
October 10, 2017
Dirk: My wife Anne and I enjoyed the auction and the many professional courtesies extended to us by your staff. Thanks to you for your professionalism at the podium. We were successful on one item of interest and happy for that! The next time around we hope to meet you.
I was stunned that Lot 2 went so cheaply. I figured it in the thousands. Unfortunately, such is the way with auctions.
We will keenly consider your auction house when the time presents itself. Sincerely, John

---
August 17, 2017
Re: Autograph Collection
Dear Dirk, Thank you for the check and auction summary, which arrived today. I am very, very pleased with the results. Thank for a highly effective and professional job. Best regards, Anne

---
July 14, 2017
Re: Happy Customer
Paintings arrived and am thrilled with the quality and I am sure they'll bring years of pleasure to my children and grandchildren. Next auction must get a Sandzen lithograph so keep me posted. Many thanks Keith M.

---
July 6, 2017
Dirk, Indeed, I received payment in Saturday's mail. Thank you. Once the autographs are done, what is left (if anything)? You certainly have done an excellent job (you and your staff). Many thanks. Denice

---
June 29, 2017
Hi Dirk, The Bertoia arrived today and I love it. Thank you very much. It is a pleasure working with you and your team! Best, Jonathan, NYC

---
June 26, 2017
Dirk, I got the check in the mail today. Pleased with the result. Thanks. John

---
April 4, 2017
Hello from Germany, The 2 packages are very well received. I thank you for your good work. Perfect handling and easy payment !!! Greetings Andre Gloger

---
April 3, 2017
Dirk, Mike and I were at your auction yesterday. You do a great job running a first class auction. Also thanks for the lunch. That is a nice touch. Dan H.

---
March 20, 2017
I just wanted your company to know that the 2 signs that were recently shipped to me arrived on Saturday. I have LOTS of items shipped to me from various places and auctions BUT your packaging was ABSOLUTELY the BEST job of any package I have received in the last 3 years. It is so refreshing to see fragile items packed with care!! THANK YOU for the fantastic job your shipping department did in preparing my signs for their journey to Idaho. Steve L.

---
March 18, 2017
I received my auction won, pictures did not do this item justice. It is fantastic. It was a pleasure working with a auction house and receiving my win in such a timely manner. Thank you very much! I will recommend you to my fellow antique dealers. T.L. Arlington, TN

---
February 15, 2017
The check arrived yesterday. Thank you! Again, the entire auction experience was totally amazing. Kathy and Ed

Oops! Hit send before I'd finished. We are still marveling over the success of the December auction; it really was a lot of fun. It almost makes me wish I had another batch to sell. (Well, maybe not.) Kathy

---
February 13, 2017
Dirk and the crew there it's Ken W.---congratulations on a fast and really top quality listing of items-----beautiful job.

---
February 12, 2017
Hello Christy, I just wanted to thank you for the prompt and careful shipping! Received the lamp in just one week, we will definitely use your auction house again! Sincerely, Lisa & David

---
February 11, 2017
Hi Dirk, Got the adjustment and final check payment yesterday, thanks. Thanks again to you and your team, all the best, Bernie & Cathie Sat. Feb. 11 2017 from Lake Placid, FL.

---
February 10, 2017

"Dear DSA: We enjoyed participating in the phone bid auction today ~ your "reps" were cordial and very helpful! We purchased #39, 104 and 338. The total due = $601.80 - the check is enclosed - Thanks so much! Barbara

---
February 6, 2017
Dirk, Thank you for running a very fine auction for my aunt's treasures. Your staff is extremely helpful and professional. We enjoyed the day, even though it listed toward the bittersweet side.

---
January 31, 2017
Dirk…Thanks to you, Christie, Dave and Bob, for making this challenging task manageable and conclusive. We have the utmost respect for your expertise and professionalism. Working with you and your team was a pleasure. As you're aware, the new owners were not to take possession until 5:00 PM. I apologize for the inconvenience [. . . ] Once again, thank you… S and B

---
January 17, 2017
Greetings from Hawaii, I wish to inform that the shipment arrived last Friday. Your team did an excellent job in securing the delicate trophies in the crate. I couldn't have done a better job myself!!! So, congratulations on a job well done. I can highly recommend them. Rgds

---
January 3, 2017
Hi Dirk, thanks again for allowing me to store some things there when I buy online - again, I will not abuse the privilege and just be honest and let me know if the pile is getting in the way. Next, one of your staff was smart enough to realize it would be silly to store a tip tray I purchased and it would be better to mail it and not have the concern of loss - on top of job employee! And lastly, not sure if is a conscious effort on your part to keep the buyers premiums reasonable compared to other online auctions, but it is the reason I am able to participate in your sales and not some of the others with bp approaching crazy numbers, and then by the time one adds in shipping or pickup, it makes it near impossible to make it workable as a dealer. So, if you had thought of this, good thinking from my standpoint of view! Regards, Kim

Hi Dirk, I received the painting a few days back and just wanted to commend your team on the packaging – I purchase a lot of art and that was by far and away the most economic and best/safest packaging I have had for a painting. Much appreciated. Paul

---
November 28, 2016
Thank You! So odd to find an Auction House that is not trying to make their living from inflating shipping and packaging costs. My hats off to you and your Staff. Sincerely, Timothy

---
November 22, 2016
lot 4 arrived this a.m......thanks for great job!!!!!! John

---
November 16, 2016
Hi Dirk, I really appreciated your professionalism in handling my father's artifacts. The catalogue is precious to me. Received your check in a timely manner. I'm wondering if that check includes the last batch of leftovers (like the glass arrowheads my father crafted) that you saved for the November 12 estate auction. I couldn't get that auction live online for some reason. Fondly, Janet P

---
October 26, 2016
I purchased an etching at a recent auction that was packed and mailed to me. It arrived in perfect condition. The glass in the frame was covered with a blue film, I assume to prevent and contain breakage. Could you tell me where to find the film. I send quite a few framed photographs through the mail. Jim R

---
October 25, 2016
I just wanted to tell you how much I appreciate your efforts in the way my artifacts were so professionally shipped, and how well the artifacts were documented. Craig

---
September 9, 2016
Hi Todd, Yesterday the canadelabra arrived at our home. Everything went ok and I want to thank for the excellence handling and packaging. You really did a very good job ,very proffesional. We appreciate it very much. I hope in future we can do more business with you and Soulis auctions. Best regards and greetings from the Netherlands, Herman S/Maria S

---
September 6, 2016
This little beauty arrived safe and sound! Many thanks for your great service and careful packing. Best regards, Deb A.

---
August 29, 2016
Dirk and Jody, Wow! What a terrific job you did Sat. at the Auction! Eight hours of very hard work! We appreciate the wonderful job you did to sell our items, esp. the Oscar Heyman pin! That was fun to watch!! Thank you so much for all your efforts! ​A & B

---
August 12, 2016
hi. I bought a $6500.00 malachite vase [including premium - ed.] from your company 2 months ago and I was extremely happy with your company. I love it and I enjoy to see it every day. are these candelabras are in good shape? the area has been broken is fixable. Thanks
please approve me so I can bid on this and other items
GOD bless all of you

---
July 25, 2016
I must say that I have purchased many many items over the past few years, and shipping charges have sometimes been so outrageous, particularly when the item arrives, and you observe the condition of item, and what you were charged. That said, I have never ever seen an item so well packed, and protected. Two boxes, tons of bubble wrap, and even blankets were utilized. Please recommend these packers whenever, just totally impressive. Phil

---
July 13, 2016

"Dear Dirk, Sue and Staff, Wow! I've run out of adjectives! Superlative is the only word for it! Your Auctions are always top-notch--helpful staff and always generous drinks and breakfast and lunch--no more "Joseph" but more wonderful ones in the follow in the future-- Thanks for an exciting and "costly" day! Warmly, Bev"

---
May 25, 2016

"Dear Mr. Soulis, I am writing to thank you for such a delightful purchase at your auction house. I was highly impressed with the servise and professional manner the staff gave to my purchase. The clock arrived yesterday in pristine condition and even more beautiful than online. Thank you. Best regards, Kendal."

May 24, 2016 Dear Mr. Soulis, I am writing to let you know the Aaron Willard Mantle Wedding Clock I purchased from your auction house arrived yesterday in pristine condition. I am SO pleased with the clock, it is even more beautiful than the photos. I wanted to ask if you have any provenance or can tell me the name of the family that consigned the clock? I would like to research the family and the clock's history further. It is in such excellent and original condition, I know it must have an interesting story, and as an Art Historian I am eager to find out and keep this information together with the clock for my family to pass down. I look forward to hearing from you and thank you again for such a delightful and professional overall experience with Dirk Soulis Auctions. Best, Kendal P.

---
May 6, 2016 Hello, I wanted to thank the packing and shipping department for an excellent job with this very delicate clock. Even though I did not request or pay for a wooden crate, a very sturdy one was provided, and the clock was secured inside perfectly. Again, thank you. I will certainly be coming back to Dirk Soulis Auctions. Sincerely, Jeff

---
May 5, 2016 Dirk, Wow what a surprise when I opened up your letter and saw the check for my items. Thank you so very much in handling these items and in being so honest in mailing me the check. I had wondered what had happen to these items. Thanks again, Linda

---
April 26 2016 Beautiful shipping job. Thank you for the time lamps. Your shipping Dept does a great job. Scott, Shasta Antiques

---
April 21 2016 Dear Dirk, I looked this morning (at the sale prices realized) and couldn't believe my eyes. That is so great! Thanks for putting this together. My dad would be really proud! Becky S.

---
April 15 2016 You know, most of the auction companies I deal with really don't care what happens. All they care about is when they will be paid. After that they could care less if you even get your item, or even if it leaves there showroom. You guys on the other hand have been absolutely the best auction house I have ever dealt with. Like hands down. I am going to go on every review site and write you amazing 5 star reviews. You really do care about your clients and in the auction business that's exactly how it should be. It's good for business because I will definitely want to buy from you from now on.
Thank you so much for being such a great auction company. I really am just so happy with your level of service. Regards, Peter

---
April 5 2016
"Dear Dirk, Sue and Wonderful Staff, Wow! The auction this past weekend was truly first class! Your facility was special as well as your menu! You spared nothing - Joseph would have been proud! Just wanted you all to know how well received it was - costly for me, but such fun!! Warmly, Beverly"

thank you: best packaging i have ever seen for shipment
just wanted to say "thank you" for the FANTASTIC packaging you did for my recent shipment. it was the very best i have ever encountered, and your price was wonderful to ship to canada. elaine, Schulich School of Medicine & Dentistry, Western University

---
December 17 2015 I just wanted to send a quick note to compliment you on the very careful and secure packaging on these framed items. I was very impressed, I've often paid much more for much less thoughtful packing. Thanks. Nathan

---
December 15 2015 Hi Dirk, just received the settlement information on the guns and fine arts. I was pleasantly surprised on the fine arts that sold, specifically Martin Luther King and the fusee watch. You did great - thank you very much. Merry Christmas to you and Sue. Kim

Hi there Jody,
Marvelous !! Now, someone else can enjoy the heavy set mad Hungarian peasant and his out of control angry horses !! 40+ years was enough for our family. Address is good.
Thank you very much - pleasure doing business with you folks. Mary
p.s. Did Dirk show any interest in selling the 3 pocket watches?

---
December 14 2015 Dear Mr Dirk Soulis,
I would like to thank you for the item that I have received recently (Arnold Gross print). It had a long way from Lone Jack to Budapest/Hungary, but it arrived in good condition, it is going to be a very nice Christmas present. It is a very nice print. (In the future if you encounter Gross Arnold, Hungarian copper etchings, I will be interested in them, please feel free to contact me...)
I would like to thank to your colleague, Christy for the prompt replys and help, in connection with my problems regarding the taxes and customs here in Hungary. Thank you, Christy! :)
Regards, Arpad

---
December 8 2015 Received my prints yesterday and I couldn't be happier. The packing job was supurb and as I relied on the condition report from one of your staff the pieces were so much better than described. I have bookmarked your sales and hope to do much business with you in the future.
THANKS
Peter M, Dir.
Arslonga Gallery

---
November 2 2015 Hi Dirk
Just a little note to say thank you for the excellent and professional job you did with our Sandzen prints. It was done the way things are supposed to be done in all regards and I believe the consignor did as well or better than she could have anywhere else.
You have not seen the last of us.
All best
Tony

---
September 11 2015 Hello from Texas,
I just wanted to know if you guys think the way you crated the very large bronze Remington was appropriate? Well it sure was! It was shipped perfectly, safely and was entombed like a mummy from Egypt. What a treat to get something shipped to you that you look at the crate and know it is in great condition! So thank you for doing such an incredible job—I look forward to following future auctions because i know your auction house takes great care of their clients! John

---
September 9 2015 Hi Dirk,
The Check arrived today. WOW!
Needless to say, we are very, very pleased. The paper catalog is very much appreciated, as is the return of my dad's sketch inscribed to me and the silver dollars.
You've hit one out of the park.
Looking forward to the results of the "unsolds" at the September 27 auction.
Kathy and Ed
PS. I notice that the Antiques and Americana auction on Sept. 27 includes a Victorian arm chair of similar design to the set I have. The one pictured has upholstery in better condition; however, is there any possibility of our three Victorian chairs and the marble top table being included? Thanks again. Kathy

---
September 3 2015 Greetings:
Because I have witnessed many auction houses either charging exorbitant shipping fees or directing buyers to a limited group of shippers who then effectively hold the buyers hostage often also charging excessively, I have become hesitant to participate in auctions. Given that, can you imagine how refreshing it has been to deal with Dirk Soulis Auctions? Your service was courteous, prompt, the packaging was superb and the fees entirely reasonable. Many thanks for restoring my faith in auction houses that don't put the G in greed.
Best regards, Raphael

---
August 26 2015 RE: In House Shipping Department
Hi, I appreciate your service and I will participate more heavily in future auctions now I know how organized you all are. Thanks so much, Sarah

---
April 29 2015 "My husband, Gary, joins me in letting you know what a great two days we had at the Meals auction in Fayette. I was the one with the camera and we were there to photograph the property, as we in the Trenton area are restoring a Federal style brick home, built 1833, by our first white settler in north MO, much like Oakwood. The setting was near perfect like a movie set. We thought Soulis Auction house did a terrific job of managing the sale. It was fun even when the rain threatened to stop the show. In a nut shell, we felt like we had attended a live antiques road show. Thank you, and your kind and friendly staff, for a great adventure into history. When I can transfer the photos to Mr. Finklestein, Meals son-in-law, in St. Louis. who is going to put them on CD, I will see that Soulis Auction gets a copy. We especially like the fun shots of you, Dirk, and your staff person, holding up those ugly giant dolls. I think we only spent $142, but our son and his partner purchased the large rug, the male nude and several maps. They are interior decorators in Columbia. I could not believe that prices held even when conditions got bad. Also regret I did not photograph Little Dixie Construction pulling out all the cars from the 'hog wallow'." - Ellen, Trenton, MO.

---
April 24 2015 I received my watches that I won from your auction yesterday and I just wanted to say that I was very impressed with your whole operation. You make bidding, paying, and handling shipping very easy and smooth. Some of the other auction houses I bid with take way to much time and charge way to much money for all of the same things. I'll be watching all of your auctions from now on. Thanks, Kenny
---
April 18 2015 Wow, another great auction! I'm just thrilled with the results! Thanks for all the hard work you and your staff put in on this auction and please don't hesitate to use me as a reference any time. Sincerely, Sue
---
April 14 2015 I generally rate the packing of goods from good to excellent. The packing of the items you sent to me is Superior. Give the packing people a "well done" for me. L. Hunter
---
April 8 2015 Hello..... I just wanted to take a moment to thank you for your last auction. While I did not win the lunch boxes I wanted, I did get a few dolls which I absolutely love. I also wanted to thank you for having the in house shipping which makes a huge difference for me.....shipping can be very inflated through outside sources and tough to afford at times, so thank you very much for packing the items well and shipping at an affordable price. Just wanted to let you know how much I appreciate your service.....nowadays, people don't really take the time to say thank you....so....Thank you! Have a good week. J.A.
---
March 17, 2015 Very pleased with purchases and great packing and reasonable shipping charge. Thank you for a great experience. We look forward to bidding with you in the future.
---
February 28, 2015 Good morning, The Eich​enberger and Kasim​ir pieces arrived last night. Although the shipping cost was higher than expected, it was worth it, as they were safely packed and in good shape. Please thank whoever boxed them up. I appreciate the good service you have provided. I have recommended your site to my friends and associates and look forward to your next auction. Sincerely, T.L. Corr
---
December 31, 2014 Thank you for all your hard work promoting and advertising the pride & joy of my mother's collection, she would be thrilled. J.B.
---
December 16, 2014 Dear Dirk, Just wanted to say Thank You again for all your help with the packing and shipping. The painting is beautiful. I look forward to buying at your auctions again in the future.
---
December 15, 2014 Good Afternoon, Dirk—Just a short note to confirm Gary did receive the three Steuben Glass lots safely and the $50 refund did appear on my MC account. Thank you for the professional and reputable way you addressed my purchase. It is always a pleasure to work with you and your staff. Merry Christmas to all!! JFP
---
December 14, 2014 Dirk - I would like to thank you for Friday's auction of my father's paintings. We watched on the internet and are extremely proud of your professionalism. We are very pleased with the results. Thanks again, Pat & Peter
---
December 11, 2014 hello you are the most helpfull auction room i have ever seen in 30 years !!!! sylvester/red rose antiques /France
---
December 11, 2014 Dirk, the selling prices were less than I anticipated based on your comments and expectations leading up to the auction. None of the sales prices exceeded your estimates. Can you give me some perspective so I can relieve myself of some disappointment? K.G.
---
December 9, 2014 Good morning, Dirk! We just checked online for the results of the sale of our Louis Vuitton steamer trunk in your December 6 auction and we wanted you to know we are quite pleased. We thank you for all your efforts in promoting and selling this piece that had been so special to us for such a long time. Tim & I hope that the new owner will take good care of it and value it for years to come. Dear Linda, You'll be happy to know that the trunk was purchased by a French buyer and is headed back to France...
---
December 8, 2014 Hey Dirk! Thanks again for doing such a great job with the three paintings. Would you please provide the prices each brought on Friday? I was so tickled with the results of Koerner that I didn't hear the other amounts.
---
December 1, 2014 It arrived today [a Navajo rug]! Just as pictured. I am very happy with it. Thank you, Hillary
---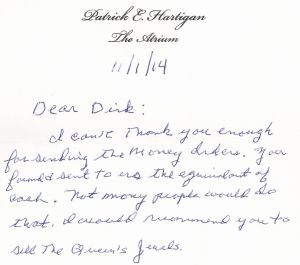 ---
October 8, 2014 Thank you for the Limoges game bird chargers. ​Excellent condition, top notch packaging job. I was SO HAPPY to find a matching one!
---
September 30, 2014 Hi Dirk, just a little fyi to tell you THAT WAS FUN!!! That was my first auction and first time bidding and I am so happy I now have some real Tiffany glass and a gorgeous display cabinet to put them in!! YAY! I look forward to more auctions in the future! THANK YOU!
---
July 31, 2014 Dirk, I just came from dad's house and it looks simply great. Please pass along to your staff my appreciation for the care they obviously took to get the interior cleaned up. And thank you for the way you handled both the auction and the estate sale. I would have no hesitation in recommending your firm to others.
---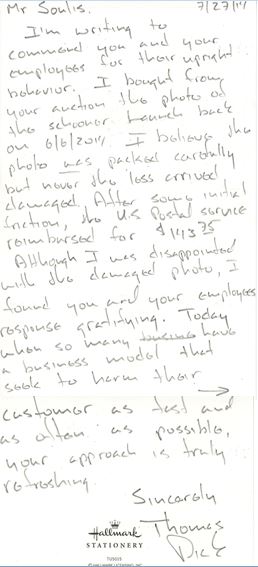 ---
July 7, 2014 My items arrived today. I am pleased with my purchase. And I wish to commend you and your staff for conducting yourselves professionally at every step. Doesn't always happen that way, and is much appreciated when it DOES happen.
---
May 5, 2014 Hi Dirk, Your professionalism is much appreciated and I only wish other auction houses and sellers offered the type of service you do...my sincere thanks for the way you do business and if I can ever be of help ... just let me know. A.S.
---
April 24, 2014 Dirk - Thank you so much for all of the time and effort you and your staff put into the estate sale. It was a huge success thanks to your expertise and knowledge, and a helping hand from God in the weather department!! You and all of your staff are so friendly, helpful and professional. I couldn't be more pleased.
Sincerely, Sue
---
April 4, 2014 Cannot thank you enough for handling my family estate items. Got the itemized list of the sale of my items and check and am very happy with the manner in which you and your staff priced and sold my items. Especially with the deadline that we were under as we were moving from KC. I am also happy that you all were able to put fair prices on the items which would have been difficult for me to determine.
Thank you for great service, S.A.
---
March 4, 2014 My mother had estate sales for 40 years and in the last decade or so she used Dirk professionally - almost exclusively - when she had fine items that would sell better in a different environment, didn't sell for whatever reason, etc.
There is no more knowledgeable or professional estate sale service that I know of. He has just finished my mom's sale with lots of unique and somewhat rare collectables acquired in a lifetime of fine estate sales - not to mention all the personal paraphernalia and everyday items always found at sales. I was interested to see his operation first hand, and he did not let us down with either class of things. Also, importantly, I liked the fact that he can do it all. He has an excellent auction service and clientele which he can use for especially nice or unusual items beyond the normal estate sale genre.
He goes above and beyond, is very efficient and capable, and left our place beautiful.
---
February 13, 2014 My goodness, I just paid yesterday for shipping and the package arrived already today. Best of all the beaded bag was well wrapped and protected. Your attention to caring for the item was much appreciated as was the nice touch of added goodies. It has been a pleasure to deal with you. I shall look forward to future auctions by you. Please keep me on your mailing list.
Many thanks, E.S.
---
December 5, 2013 Hi, I just wanted to let you know that you take wonderful photos for viewing. Thanks for your consideration, so many auctioneers are sneaky.
---
November 26, 2013 Hi Melissa I received my five boxes and I was delighted with the packing. You are the best packer, so I will have no doubts at purchasing more items and knowing you will be the packer for items under 12". Thank you for doing such a good job!!! I will pay my bill on that right now... Have a great holiday, A.M.
---
October 23, 2013 Hi Melissa, My items arrived today without incident. They were wonderfully packaged and I am very happy with them. Top shelf job as usual for you guys. Well done! Thanks a bunch. DM
---
October 17, 2013 Hi... Just wanted to let you know that I received all 9 of the compacts and purses that I bought in your recent auction. Great and speedy service. I'm more than pleased. Thanks so much! Cheers, MN
---
September 13, 2013 I just wanted to let you know we received the bellarmine jug today. It is exactly as I expected. The packaging was the best I have ever seen. I am so happy!!! But...I refuse to share the tootsie rolls with my wife. It has been a joy doing business with you. Thank you, P.F.
---
August 14, 2013 Dear Dirk, Jody and Staff,
I want to thank you for all of your efforts regarding my Sister-In-Laws estate. You all did a marvelous job! As you know, this was very difficult for my wife. Losing her sister recently and her parents earlier was difficult. Seeing all of her parents and sister's possessions at once became very difficult for her. Lots of memories. You and your staff handled this in a very professional and caring way. We both appreciated that more than you will ever know. I take my hat off to all of you. The way you left the house is perfect. I am getting the carpets removed and we will begin painting the entire interior. No need for anything from you although we appreciate the gesture. When you first showed up and all of your staff was moving things, I mentioned to a gentleman that there was an extension ladder in the back of the house. It did not get in the sale and it is no big deal. If someone wants it, please feel free to pick it up. A special thanks to Jody. We really appreciated you compassion for the task at hand. You are the best.
Dan and I were very impressed with the work of your team. I appreciated all you did. The online auction was a perfect option for us. I was very pleased on how the house was left. I will definitely refer you to others.
Thank you
---
July 2, 2013 Hi Dirk,
Several years ago around 2001 you auctioned a collection of pharmacy items and (Antique) hand tools for me. I could not have been more pleased - it was a great experience.
Now I am looking to build or restore and old hand pump railroad car. I heard that a complete one and a parts one were sold six or seven months ago. If possible I would like to get in touch with the buyer (especially the parts buyer).
Dirk, here is my information and should you ever know or see a handcar available please keep me in mind. Thanks again - Rich
---
July 1, 2013 Hi, Dirk -
Thanks go to you and your staff for all the hard work putting the estate sale together, and also running the sale. It all looked really nice--great job staging!
Thanks again for all your help! L.W.
---
June 30, 2013 Dear Dirk,
How we have succeed to move in time for our set schedule with your amazing help. We are grateful.
If I may have given you a trouble, please forgive me. My brain felt like numb in the end.
Thank you again everything. Sending our best wishes for your family and amazing work that you lead.
We were so rushed not enough time to thank you enough. It all feels like a dream now.
We have received your mail with the inclusion of large check. Thank you for your impeccable professionalism! We are very much impressed.
It is truly our luck to have your attention in timefor the move in Short notice.
As we have talked about the Painting "Fall to her knees in her Kitchen" it will be nice to donate to the institution in Kansas where that work has born. I feel it belongs to the Kansas to share with people.
Thank you for all your guidance and support. I am grateful to have chance to know you, to learn about you and your work that gave me such fresh delightful feelings to have business with you, who we trust that your work is not only fair trade but also all about honor and dignity.
We are grateful.
Most Sincerely yours, Ke-Sook www.ke-sooklee.com
---
February 12, 2013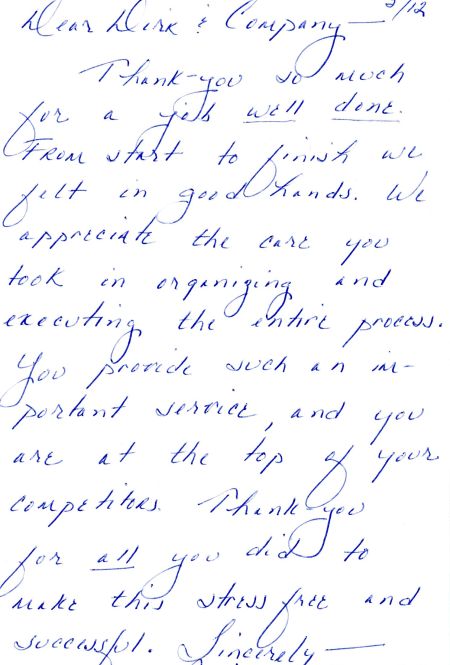 ---
Dirk, I was not able to attend the auction yesterday but had the opportunity to watch it online. Congratulations, you and your staff did an amazing job. You are most professional and very impressive! J.F.
---
February 12, 2013 Melissa, Our four small antiques arrived via USPS Priority Mail today right on schedule, three days from Missouri to Massachusetts, and only five days since the Feb.9th auction. Happy Valentine's Day to me! The items were beautifully packed, and your handling/shipping costs are very reasonable. Kudos to everyone there at Soulis Auction Service. The online catalog was very accurate, with excellent photos and descriptions. Phone bidding was so easy. Everything from start to finish was handled very professionally, and extremely efficiently in the shortest possible period of time. The staff at Soulis does an amazing job, and everyone was so friendly. Wish we lived closer, and could attend an auction in person. But I will not hesitate to bid again from a distance. It is such a pleasure doing business with you! Regards, Heather
---
January 4, 2013 Hi, Perfectly received Great job Many thanks R.C., Paris, Fr. http://www.liveauctioneers.com/item/14884650_signed-r-lalique-figurine-se-balancant-pendant
---
October 17, 2012 Jody, Thank you so much! That is so nice of you! My thanks to you, Dirk, Sue, and the rest of your terrific team for the excellent job you have done for me for well over a year! I greatly appreciate your help and admire all of you for conducting your business with total honesty and integrity. My sincere thanks and best to all of you, G. R. The Estate of Jody Kleweno
---
October 8, 2012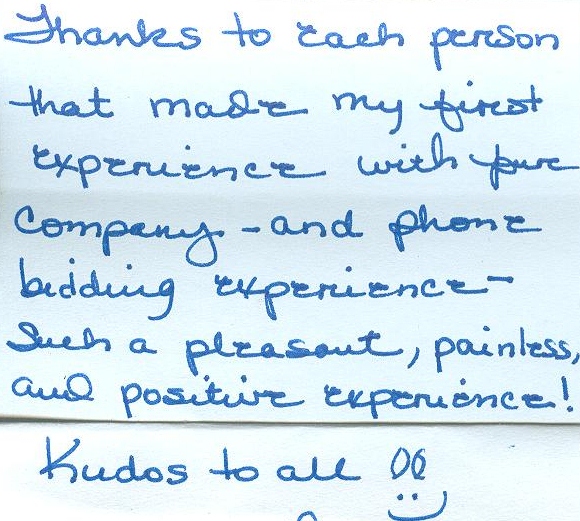 ---
September 24, 2012 Hello Sue and whom it may concern at Dirk Soulis, I paid via Paypal. Please email me the dimensions and weight and I will email you the prepaid UPS label to stick to the box and UPS will pick it up. Thank you so very much. I love your auction house. Regards, Laurent
---
September 24, 2012 Dear Friends, I want to thank you all for the excellent service. I will definitely keep an eye on your future auctions. Sincerely, Bob
---
August 15, 2012 Hi Dirk, I think things are going great! Your people are VERY nice and work really fast! I can't believe how much they have out and displayed! You have a good team! Thanks, Dirk! Great job!
---
August 15, 2012 Hope your travel was for fun not work. I peeked at an estate sale this weekend in Leawood to check on the competition and you should know that you and your crew are so much more professional and your sales so much cleaner and run so much better. I'm grateful for everyone's hard work. Cheers, Rhonda
---
August 14, 2012 Hi Dirk— Thanks so much for all your help! I know I can speak for all of us here in Omaha that you run a very nice operation and we are thoroughly pleased. We will be referring your services to others.
---
May 4, 2012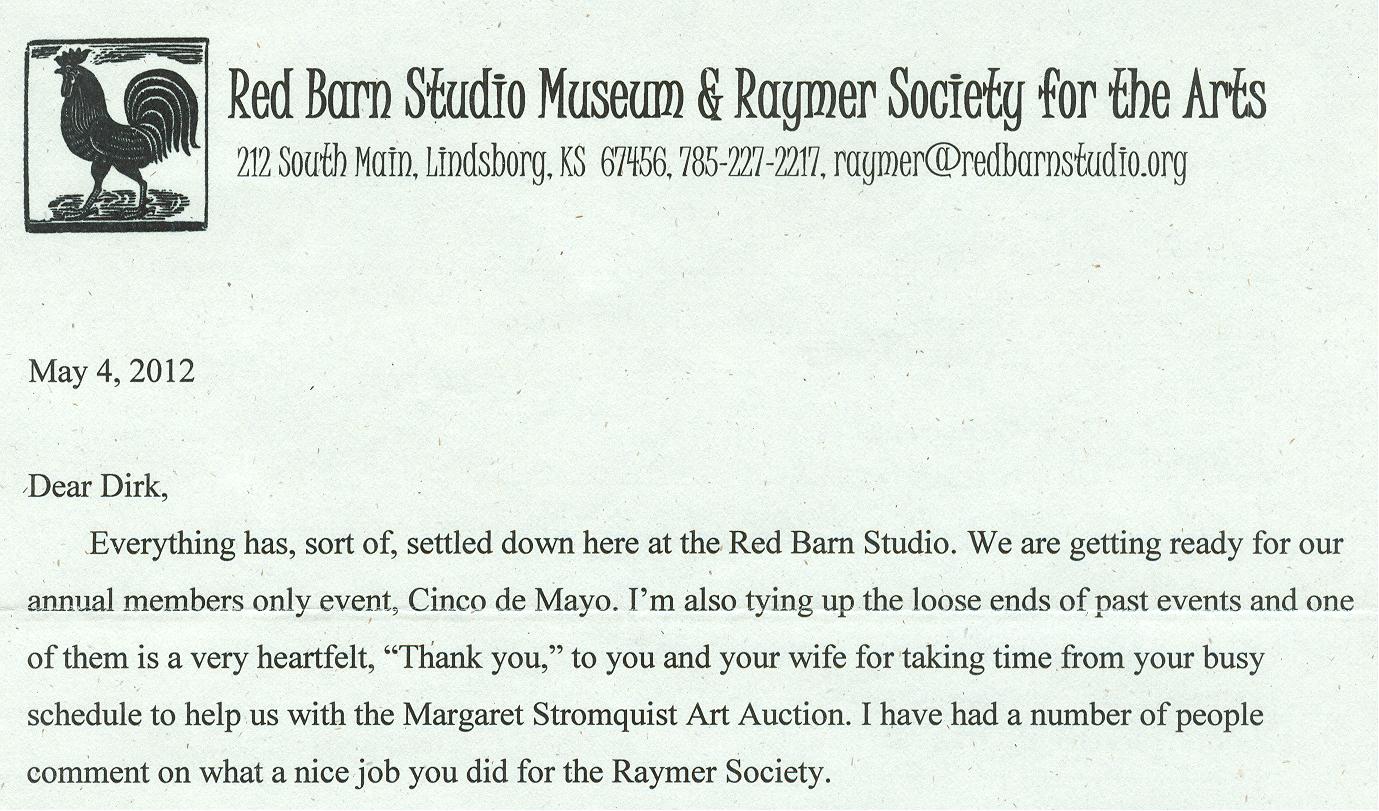 ---
March 27, 2012 Thanks Melissa. You are so incredibly efficient - my hat's off to you. It's been a pleasure dealing with your auction house these past few months and I will keep my eye out for more offerings in the future.
---
March 27, 2012 Hi Melissa, the steins arrived yesterday. Thank you so much for taking the time and consideration to properly pack these steins. The packaging was exactly what they needed and they arrived in perfect condition. I am very satisfied with my purchase and will not hesitate to do business with your auction house again. Thank you!
---
January 31, 2012 My parents were avid antique collectors and dealers in Colorado for decades. When they both passed away within weeks of each other I had to liquidate a house & basement full of antiques. Living in CA, I needed an auction firm that I could trust & produce results. I decided that Dirk Soulis met all qualifications: personal owner - service, a national following, trustworthy reputation & a super auction facility. Dirk & Susan provided all this & more - providing outstanding customized service, communications, tailored arrangements (including wrapping depression glass in a shed on a snowy day!), effective marketing & a personalized sales touch. The resulting auction had completely satisfying results. Moreover, the Soulis' earned my complete trust all through the long-distance process, as exemplified by Dirk finding an obscure $700 item in a routine box. Their personal considerations and friendly relationship cemented a completely pleasing process – Thanks Dirk & Susan! - B. Martinson, California
---
January 13, 2011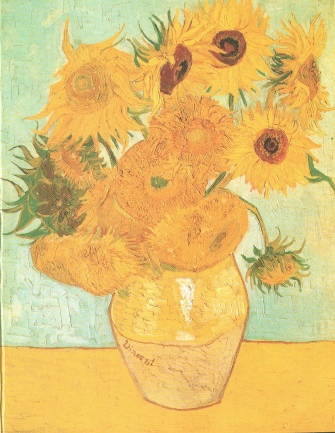 - D.S.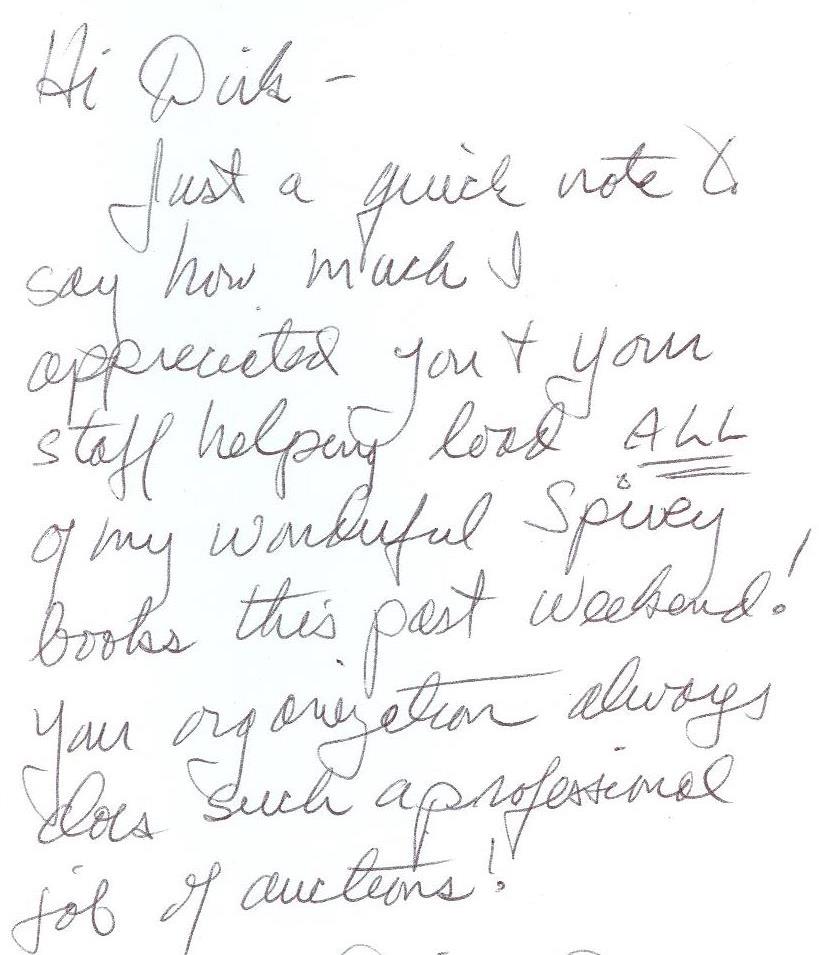 ---
January 11, 2012 I wanted to thank you and your crew for the great service following the Spivey's auction. We came both days to pick up and I was very impressed with the quality and courtesy of your team. Also, this is the third bookseller liquidation/closing that I've been a part of and yours was easily the most organized. Please add me to your mail list for future auctions, especially those with a an emphasis on books. - Easy Chair Books
---
December 13, 2011 The items arrived today and are excellent. Thank you very much for the great packaging and I look forward to doing business with you again. - K.G.
---
November 17, 2011 Just received the wood Buddha from you and a few minutes later received the shipping invoice, which is now paid. Am astounded by your clean, quick, easy service and reasonable shipping rates. Will certainly be watching your sales more closely in the future! - D.M.D.G.
---
November 26, 2011 Dirk: Thank you for the check. I do still have a few loose ends… Please tell your crew hi for me, they were all so nice to work with. - M.J.
---
November 25, 2011 Thanks for your note Dirk. I was very pleased with the way the sale was handled. Christie was very professional and was very aware of all details and procedures as were the the of your staff whom unfortunately I cannot remember their names. It was a pleasure to work with them. - D.K.
---
November 16, 2011 I received my item today. I have been very pleased with the item itself and the manner in which this transaction has been handled. Very quick service. - T.G.
---
November 15, 2011 I received the items, they were packed extremely well. Your service is outstanding. I am looking forward to buying more from you in the future. Thank you again. - A.L.
---
September 2, 2011 I was an online bidder. Just wanted to let you know it was a pleasure doing business with you. You have a very reasonable buyer's premium and shipping was prompt and effortless. Please add me to your email list so I can bid on future auctions. - D.S.
---
July 31, 2011 I just wanted you to know that your awesome check arrived yesterday in my mail, and I will be taking it this afternoon to be deposited into the Estate account! THANK YOU, THANK YOU, a million times, for conducting such a fabulous sale for me! You, Sue, and the rest of your crew did an incredible job! - G.R.
---
March 4, 2011 Overall I was very impressed with everything from your recent auction and how things were handled. Your 10% buyers fee was certainly a breath of fresh air. It made me want to bid more! - J.G.
---
March 3, 2011 I received a message from Melissa with the information regarding the shipment of the VON GLOEDEN, WILHELM BARON (1856-1931) PHOTOGRAPH. So everything is OK! I would like to thank you and your company for the very professional, clear and efficient organisation of the online live bidding. It was really very impressive and it was a positive experience for me. - C., Paris, France
---
February 26, 2011 Congratulations on your sale. You got some tremendous prices and you did very well for your consignor. You did a great job. - W.B.
---
February 21, 2011 Dirk - What an incredible amount of work you do on these auctions! Thank you. I spent hours yesterday looking at the computer. - H.S.
---
February 15, 2011 Thank you!! This has to be the fastest ever for getting an auction item. Way to go! - Sarah
---
February 5, 2011 Hello Dirk and Susan, I attended your sale today (bidder #275) and have safely made it back home to Omaha with my treasures! I wish I could have purchased much more and was absolutely delighted with my total experience at your auction. Your staff were all very helpful and made my initial visit extremely rewarding. I am looking forward to many more trips to Lone Jack for upcoming sales and will try to attend on line when I am unable to come to K.C. I am curious if you usually have 2 rings going for us who cannot afford to remain in the main (auction) room? I couldn't believe the amount of fantastic finds I was able to obtain! Once again I thank you for an absolutely wonderful experience. - B. Antiques
---
January 19, 2011 Dirk: Quick note to let you know I received my lot. I have been looking for this rare piece for 20 plus years and was elated to find it in your auction (Frankoma Dealer Plaque $2980.00)-----super quick ship (3 days) --"WOW" and what a pleasure during my phone bid. Your staff is excellent and it was a treat to be part of your auction. - M.D.
---
January 11, 2011 Dear Mr. Soulis, I am writing only to say thank you. I have only been using live auctioneers for a short while, but I feel qualified to say that you are at the top of my list. I am so glad that you have pieces of Brilliant Cut Glass with excellent photos. (I have found this to be rare). I also appreciate the condition report, again, very detailed for the bidder. I look forward to buying from you, and again, thank you.
---
January 4, 2011 Hello. I am a frequent bidder/buyer on Live Auctioneers and I wanted to thank you for your effort to post multiple photos and complete condition reports. In that respect you are one of the best houses on LA. - T.W.
---
December 17, 2010 What a pleasant surprise to find my postcards in the mail today. I had just sent an email to your shipper but when I went to the post office today your package was waiting for me. I assume I will get an invoice for shipping. I am very happy with the postcards and fast response. Hope to deal with your auction house again (love postcards and other ephemera) - J.M.
---
November 23, 2010 I want to thank you for expediting the packing & removal of items today. Your "crew" were very cordial & efficient. They did a great job!! - D.B.
---
November 14, 2010 It's been a while since I've been to one of your auctions, and I was very impressed today. Your items were clearly described, and you followed the order shown in the auction listing. I also liked the big screen with images of each item. Your auctioning was crisp and kept everyone's attention. I hope you were happy with the results, and I look forward to another breweriana auction in the future! I couldn't stay until the end to personally thank you for your work, so thought I'd email instead. - M.B.
---
October 27, 2010 It was a fine auction and once again I would like to compliment you and your staff on a fine job and an enjoyable experience for me. - W.M.J.
---
May, 2010 Three Day Antique Auction Over 2000 Lots Sold Buyers from 18 States: Thanks for a great auction.....Thanks to all of you for your hard work and the help you gave us in getting out of our building by the deadline. You certainly went above and beyond the call on this one. Please give Sue and the crew our thanks and best wishes. - S.S.
---
June 9, 2010 I am emailing to let you know the Railroad china I won has arrived and is as described in the auction. Thank you very kindly for accepting my bids. Everything went as well as it could possibly have, and I am very happy to have been able to buy these things. Wish I could have gone for more, but that is the way it was. Just wanted to let you know I'm a happy customer and to thank you for the opportunity. - J.S., Niverville, NY
---
June 5, 2010 We loved watching the auction via the Internet! - B.H., Lawrenceburg, IN
---
March 21, 2010 Just want to thank you for the results of the sale Saturday of the Salesman Samples. We were excited and of course pleased that the roadgrader did as well as hoped. It was advertised quite well and the floor bidding was great. A floor buyer, of course, would have been easier to see who won it. For sentimental reasons of where it went and how it will be displayed or whatever is always fun to know. Thanks again for a great job well done. - M. & L.J.
---
October 15, 2009 Everything arrived today, safe and sound. We are delighted with the outcome of the first sale and hope you are, too. I may have some questions after I look over all the inventory. What a job! - T.B.
---
September 25, 2009 Several friends have called, left messages, and e-mailed me how impressed they are with the sale. Very professional and well done they say. One of the neighbors down the street sent me an e-mail saying she'd never seen so many people waiting to get in on Thursday. Thanks. - D.O.
---
I wanted to thank you for the fabulous presentation of Mom & Dad's art at Sunday's auction. My sisters and I thoroughly enjoyed ourselves and were amused and impressed by the bidding we witnessed. We are pleased with the results of the sale of our parent's art and thank you for all you have done for us. We look forward to the future auctions. - K.W.
---
August 29, 2009 Thank you so much for your hard work. You did a great job. Very professional and attentive to details. I will rehire you and recommend you in the future. Thanks for doing such a super job!!! - C.J.
---
September 3, 2009
I am a dealer here in MI. You have really nice items in your auction. I bid on many items, but I didn't win them all; well, I am happy with what I won. Your shipper seems to be a good person. I am going to pay it instantly. - Raf
---
August 15, 2009 I have attended several of your Estate sales and have been impressed with the orderly fashion in which you conduct them, their cleanliness…I would like to be on an e-mailing list so I don't miss them. - K.M.
---
December 8th, 2008 I truly enjoyed bidding in (and watching live in real time) your auction, and am looking forward to more of the same. Your items are well worth bidding for, with very affordable opening bids and accurate descriptions, and your auctioneers are the best! Sincerely, K.D.
---
Hello Susan, My cash register, your Auction Item Number 39: NCR 313 CANDY STORE CASH REGISTER W/SIGN, arrived here in Las Vegas. I just want to write and tell you how happy I am with my purchase. Thank you for being a professional company and treating me, a complete stranger, with honesty and integrity and respect. I also want to thank you for recommending me to Dennis Kemp at The UPS Store in Lee's Summit, Missouri. The item arrived in excellent condition with absolutely no damage of any kind. That company did an excellent job of packaging such a delicate and heavy item. Thanks again.
---
May, 2008 Dear Dirk, I just wanted you to know I received the check today. Also, to say again how pleased I am with your work. You did a wonderful job and I'll never hesitate to recommend you. Thanks again and I hope to see you again sometime. Sincerely, C.........
---
Feb 20, 2008 Dear Dirk, Sue Tony and Staff I have been remiss in thanking you for handling my collectibles and real estate auction. I really appreciate all your hard work and professional handling of the sales. I know it took some months to sell my eclectic collectionsand to list all of the items on ebay, no way could another auction house have handled this job. - L.S.
---
March 17, 2008 Hello. I just wanted to send you a message to let you know that my great Cabat vase arrived today. I am so overwhelmingly pleased with the piece... I just can't express myself adequately. Everything from the high bid, and the ease of which I was contacted from U.P.S. went just like clock work. Again, thankyou for a very pleasurable experience... the "Fellie" bud vase is perfect. Thanks again...My best, M.C.
---
On a different topic, we have participated in several different eBay Live Auctions. Your auction house has been superb: accurate description, accurate condition report, excellent referral for packaging and shipment, and swift invoicing. We hope to visit again!

We wish you a very Merry Christmas and prosperous New Year 2008.

Kind regards,
M N

---
The fine Italian glass bird arrived in California, safe and sound. The packaging was simply splendid. It is a real credit to you that your high quality standards remained intact despite severe storms in your region and other holiday business demands. Thank you! We wish you a very Merry Christmas and prosperous New Year 2008. - M.N. Encino, California
---
Hi Dirk,
We were happy to see our painting sold last Sunday. We didn't get there until about one pm and left after you finished with our painting but wanted you to know we think you do a great job. Thanks for everything,
J&D
---
Dirk-
Thanks again for your help, and wonderful ...even masterful ...job of the auction on my father's artwork. Our whole family has such deep respect for you as a person and admiration for your gifts as an auctioneer and art marketer. My mom continually raves about your good wife, and how well behaved and polite your son is. I want to do whatever I can do to support you.
Bruce R. ……….
Director, Training & Organization Development
---
You have added so much security to these past months I'm almost caught up with past bills etc.
Thank you so much.
Sylvia R.
---
Dear Dirk,
Thank you so much for selling the tankard and other items for us. We are so thrilled to have that much money.
Leta Jones
Westover Hills Presbyterian Preschool
---
Dear Mr. Soulis, Thought I would let you know that the family of George B... is more than pleased with your handling all aspects leading to and the auction of his inventory of collectibles. The auction was a great success by reason of your preparations for it. Your ability to reach the potential buyer was a big plus. The catalog you prepared was outstanding along with your handling of the auction. Dirk, you handled all phases of this matter in a highly professional manner. We are most thankful. Last but not least, the results from your efforts was most impressive. Please know that I would be happy to recommend you to anyone needing the type of service you provide. With kindest regards and many thanks, I remain……..
Sincerely yours,
Paul W. B...
---
Dear Dirk,
You must be reading this note from a wheelchair, if not from a hospital bed. I thought last night that I hoped you were having a double martini, sucked from a straw, while your head was flat on a feather pillow. Our eldest son, R., attended the auction, and his wife called me early in the morning of the auction, and told us how to do the live computer broadcast. I wasn't sure I wanted to do this, but she insisted, so I did- the entire auction. The speed of it all was so fast that my slow reaction times wouldn't have let me bid on anything anyway. (I saw one picture that at another time I would have been interested in- the one done by the Hungarian painter.)
You well know that my admiration for you has been great and long lasting. The events of yesterday, your professionalism, your honesty are rare in our society that is so full of acceptable corruption. I hope you know my best wishes are with you for the continuing success of your business enterprise.
Sincerely,
Ronald M….
---
Dear Dirk,
I appreciate so much the professional way in which you handled the sale of my phonograph collection recently. From the time you started picking up the machines until the last one sold, you handled them with the greatest care. Your sale was planned so that it went smoothly and quickly.
I felt that the sale went very well, better than I had expected. That was due primarily to your advertising program.
Sincerely.
Mary F….
---
Dirk & Sue,
Good Job! And a check 48 hrs later! Hope we do as well with the next sale.
V.R.
---
Dear Dirk,
I want to express my thanks for how you handled the sale of items from my mother's estate.
In an industry not known for its professionalism, you stand out for your thorough and sensitive management of the sale. My family and I especially appreciated how you handled the entire process, from the initial explanation of what we should expect, through picking up the items at my mother's house, the inventory, advertising, the sale itself and finally a full and easily understood accounting.
Dirk, thanks again for your attention to all aspects of the sale. Looking back with 20/20 hindsight we wouldn't change a thing and will recommend you to anyone with an upcoming need for an auction.
Sincerely,
Bill T….
---
Dear Mr. Soulis,
As we look back on 2006 one of the highlights for us was the success of the Antiques Affair last February. We had a wonderful time and continue to be very grateful to you and all the folks who volunteered to help us make it such a great evening.
Debra Parson
Steppingstone Development Director
---
Dear Dirk,
The Kansas City Art Institute would like to thank you for the time and energy you dedicated to the Vanderslice Holiday Shoppe and we hope you realize the importance of the role you played in this event.
Pamela J. Sibert
Vice President of Advancement
---
Dirk and associates
Luckily I was browsing the AntiqueWeekly Saturday night when I seen the auction ,a hasty decision was made to be on the road a 5 am Sunday morning.
I was luck enough to get the 2 carousel horses and a few other things that we had came for .
The main reason I an writing you this is to thank your staff for the very courteous treatment. your 2 ring men was most helpful in loading the horses for us,
My husband has been ill and not as active as in the past so this was a main concern when we bought them.
I ask to be put on the mailing list, we was most impressed with the auction and everything connected with it ( including the house cat who did her best to make friends!)
Hoping to be able to attend the Next auction ,am interested in the yellow diamond rings. Depending on which day they sell---
Thanks again
Bonnie and Loyd S…….
---
I wanted to tell you how pleased I was with the help and attention I received from you and your staff!
I knew when I called that everyone there was probably very busy, and I hoped that someone would at least get back to me with the info...I certainly never expected that my concerns would receive immediate attention, AND that several people would provide several responses to my questions. The young lady I spoke with was very pleasant, and provided answers to all my questions. This was followed up with emailed info and photos, even though I had said that wasn't necessary. I've sometimes not had that degree of professionalism, courtesy, and customer service when I've been standing right in front of someone!
This is only the second on-line auction that I've participated in. My first experience was very unpleasant, so I have made a point of not even looking at them. But you had several items I was interested in, and the fact that there was no buyer's penalty (I cannot bring myself to call it a "premium"!), made me more receptive to trying an on-line auction again. As I've said, I was very happy with your service, and should you offer any more items in which I'm interested (primarily early toys and early holiday), I will definitely sign up again!
Thank you.
Kathleen K…..
---
Just wanted to say thanks for a very nice auction today.
Dan & Cathy F
……just want to take the time to thank you for being helpful, I buy a lot of material per year, and one problem is shipping, the shipper you are using I can tell cares about the client and is treating people very fair, I being a person who owned a shipping store, know shipping and I also know rates, I quit using skinner in Boston, pretty much all together because of rates, with buyers premium and shipping I can hardly buy there. I buy a painting for $1000 and shipping and premium will be another $400 . Keep up the good work and in the end being fair and conscientious will pay, people are aware of being ripped off they just have no control over it. Your shipper is a good one keep him.
Tom
---
Good Evening Mr. and Mrs. Soulis,
Jo Ann and I …….. were bidders 111 today at the auction. We just wanted to tell you that in all the years that we have been going to auctions that we enjoyed so much the way you conduct your auction. You were so considerate and professional.
Mrs. Soulis, you signed me in today and you were just so nice since it was our first auction with you folks. We have been going to auctions for years but just have missed yours for some reason. Glad we came and we will be there tomorrow.
Again, thanks for the professional manner in which you handled all aspects of the auction today.
Take care and we will see you tomorrow. Bidder 111
Please pass this on to your staff.
---
Congrats for a great set up at the auction. My mother and I have been to several auctions being in the antique business for 15 years. And this is done right! Love the cataloged events, loved that the merchandise was put off to the side after purchased, loved that you had a view of the item on big screen, as the auction was going.
I was wondering with a catalog if items would be shown, of course I hadn't marked the items when walking around and at the last minute afraid I was going to have to use description on what I was bidding on and praying it was the right items………..but never mind…..NOT only was there a catalog and great description, you had big screen view and you had the actual item being walked around!
The staff did a fantastic job keeping up and having items ready, I know that wasn't an easy task, but they breezed thru it and made it look simpler than it was!
I just knew there was going to be a catch for smoothness doing the auction…that cashing out…or getting the right merchandise would be a problems………….so…..Okay getting ready to check out….went smoothly, friendly staff, ……………okay the hold up and complicated part is getting merchandise…………NOPE……..smooth, not a long wait…expertly done. Again Friendly staff, even helped carry out….YOU GOT TO BE KIDDING ME…! Wonderful…………
Again, wonderful job! We live in Blackwater and was about 1 ½ drive, But worth the drive for the great service, and handling of an auction. No doubt when I see a primitive auction, will do our best to be there!
Again keep up the great work, and keep up the great website!
Please pass this on to your staff, I know being in people person environment that you always hear the bad and there are very few pats on the back! So take the HUGE PAT on the back!
Will see you and your staff soon!
Sincerely,
………………………..
Business Development Officer
Alliant Bank
PS….Kitchen had great food as well…CHICKEN SALAD..WAS HUGE…didn't even eat supper was still full.
I have left you excellent feedback for the great windsor. I am thrilled. I look forward to doing business with you again!
Dave H
---
Dirk, I believe the content sale wraps up what you have from Mrs. H…'s estate. Our family Thanks You for what you have done for us.
Best Regards,
Chuck H….