10th Annual Year's End Antique Auction
Thursday, December 28th 2017
Two Auctions at Once!
Over 1000 Antique Lots Sold!
A large selection of Catalogued and Un-Cataloged Lots Including:
Victorian Iron Fence and Garden Items
Coin Operated Trade Stimulators, Juke Box and Pinball
A Collection of 15 Antique Powder Horns
A Collection of 20 Navajo Weavings
A Large Lot of Semi-Precious and Costume Jewelry
Solid 18k Gold Pocket Watches
Glass and China
Antique Clocks
Regina Music Box
Fifty Pieces Antique Walnut, Mahogany and Oak Furniture
Horner Style Carved Sideboard
Spool Cabinets and Multi-Drawer Cabinets
Unusual Oak Furniture Pieces
Parlor Table With Dog
Horse Drawn Doctor's Buggy
Grandfather Clocks
Bernard Martin, Jack O'Hara and other Original Art
Native American Jewelry etc
Very Fine Victorian Clothing
An Elaborate Japanese Kimono
Circa 1890s Fraternal Lodge Regalia Costumes
Antique Dress Forms
Toys and Novelties
An Antique Carousel Horse
Oriental Rugs
Much more yet to be unpacked.
The Talbott Collection of Jewelry, Fashion & Coins
Thursday, December 14th 2017
The Living Estate of a local Civic Leader:
Hermes Scarves
Fine Gold Jewelry
Pearls
Jade
American Coins
Signed Books
Fine and Decorative Arts Auction
Sunday, December 10th 2017
Material from a Kansas Institution paired with property from estates in Missouri, Kansas and Illinois.
A Collection of 20th Century
Art Glass and Ceramics
Saturday, December 9th 2017
A nice selection of Glass, Pottery and Ceramics with an accent on the Art Deco Movement and Modernist motifs.
Signed works by:
Amphora
Cambridge
Durand
Fort Hays State Pottery
Gallé
Kralik
LeGras
Longwy
Monroe
Moorcroft
Mt. Washington
Rookwood
Rosenthal
Royal Copenhagen
Royal Doulton
Schneider
Steuben
Tharaud
University of North Dakota
The November Internet Auction
Autographs | Animation Art | Children's Objects
Tuesday, December 5th 2017
American Arts Gallery Auction
Sunday, December 3rd 2017
Paintings | Prints | Weavings | Pottery | Jewelry
Americana Antique Auction
The Estate of Barbara J. 'Bobbie' True
Session II
Friday, November 24th 2017
The second installment from this Arrow Rock, Missouri Collection
Rare Missouri Baskets
Country Furniture in Old Paint
Antique Quilts
GREAT Antique Holiday Items
Antique Tin Litho Toys
Oil Paintings
Three Fine George Caleb Bingham Mezzotint Engravings
Black Americana
Advertising Stoneware
Kansas City Chiefs Game-worn Jerseys
Combined Estates Auction
Saturday, November 4th 2017
A Collection of Piranesi Etchings in Thomas Britt Frames
Handwrought American Silversmith Works
Asian and Other Porcelain
Monumental 18th C. English School Oil on Canvas Portraits
Exceptional Galle' Cameo Glass
Victorian Cast Iron Fern Pattern Furniture Suite
Living Estate Auction of
Militaria and Firearms
The Terry McGinnis Collection
Saturday, October 28th 2017
Civil War through Viet Nam Era
Selections from the Darrell Carr Collection
Antique Clock Auction
Saturday, October 21st 2017
Darrell has been a fixture at any and all clock related events around the mid-west for the last 30 years. This offering will include three hundred lots of clocks from his collection, along with lathes, tools, movements, parts, projects and more - both cataloged and un-cataloged.
Railroadiana Auction
Sunday, October 15th 2017
A 30-year Collection of Railroad‑related Antiques and Collector's Items; primarily Hardware and Collectibles from the Atchison, Topeka and Santa Fe Railroad.
Antique Tool Auction
Saturday, October 14th 2017
The Collection of Fred Pawlicki
A large collection of 400 lots to include both primitive and mass produced antique tools.
Highlights include:
Unusual Early Iron Woodworking and Other Tools
Planes by Various Manufacturers
Various Compass Planes
Red Logo Winchester Planes
Keen Kutter 4-inch Draw Knife, No. 7 Plane and More
Unusual Plumb Bobs
Various Saws and Cutting Tools
Good Iron and Wood Levels
New Old Stock Stanley, Lufkin, Rabone and other Folding Rules
Stanley and other Advertising and Go-with Items
Keen Kutter and Winchester Non-Tool Items
Drills, Wrenches, Tools of unknown use
Outsized Antique Iron Tools
Planes and Tools in their original boxes
Old Wood Boxes and Totes
Unidentified Tools and Objects
Marbles brand Tools
Cutting and Chopping Tools
Some Railroad Marked Tools
Pocket Knives and Axes
More!
There will be a cataloged auction running in the main gallery while a second auction ring offers un-cataloged tools in an adjoining room.
The Contents of a
Walnuts Condominium
Saturday, September 30th 2017
A Single-Owner Session of Fine Furnishings, Accessories and Collector's Items from the estate of Sprint corporation chairman and CEO Paul Henson and his wife Betty, a philanthropically active couple who served countless non-profit causes around Kansas City, Missouri for more than 50 years.
Highlights:
Fine Antique Furniture and Accessories
Exceptional Draperies and Textiles
Sterling and Other Silver
Bronze Sculpture
Paintings and Pencil Signed Prints
A Collection of Leather Books
A Mason & Hamlin Baby Grand Piano
Fine Chandeliers and Light Fixtures
Classic Empire Style Wall Sconces
18th and 19th Century Framed Textiles
Good 19th Century Mirrors
Special Order Steuben Crystal Art Objects
A Collection of Antique Copper food Molds
Herend, Waterford, Lalique, Baccarat
Watches and a few Jewelry Lots
Local Artists include James and O'Hara
18th and 19th Century French Furniture
A Single-Owner Collection of
Native American Arts and Artifacts
Saturday, September 23rd 2017
One couple's small, curious collection of Prehistoric, 19th and 20th Century Native American objects gathered over 30 years.
We Know Who Wants Your Parents Stuff!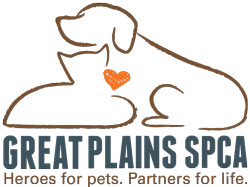 Forbes
, PBS, NBC,
The New York Times
, CNBC, Social Media, even local auctioneers are all reporting "no one wants your parents stuff". We disagree.
In May of this year, we sold a pair of chairs manufactured around 1950 for the equivalent of the average American's monthly salary. In June, we sold a 1935 painting by Birger Sandzen for more the than the average American earns in a year. We know who wants your parents' "stuff".
Granted – common household items may be difficult to move. And common objects will suffer from the eternal laws of supply and demand, this is nothing new. But to say that "no one wants your parents' stuff" or that your treasured belongings are no longer treasures is not accurate. The naysayers like Jennifer Pickett of the National Association of Senior Move Managers advise, "The kids won't want it and it won't be worth anything. You'd be better off donating it".
We strongly disagree!!
For a $15 donation to benefit Great Plains SPCA we will provide you with a brief history and an opinion of value on each object you bring. Take advantage of our 30 years of hard work, our experience, knowledge and understanding, and you just might find that we know who wants your parents' stuff.
From The Hanson Hoard
Antique and Vintage Novelties and Collectibles
Thursday, August 31st 2017
Up for bid will be a large selection of
Advertising Items
Unusual Tin Litho Items
Art Deco
Antique Toys
Discontinued Collector's Items
Vintage Character Collectibles
Unique Examples of the above and more!
Fashion Accessories, Jewelry and Select Decorative Accessories from a Walnuts Condominium Thursday, August 24th 2017
Up for bid will be
Designer Hand Bags
Hermes and other Scarves
Designer Clothing
Gold, Silver & Semi-precious Jewelry
Select Collectibles and Decorative Items
July Gallery Auction
Sunday, July 30th 2017
Nearly 1000 Lots of Catalog and Non-catalog Offerings
Collection of Contemporary Art Glass by Charles Lotton, Orient and Flume
Correia Art Glass and Lundberg Studios
Lamps and Glass by Tiffany, Steuben and Durand
Chinese and Japanese Porcelain
Rare early, low edition Pencil Signed Prints by Charles Banks Wilson
A Collection of Good 20th C. Native American Kachina Dolls
American Art Pottery
American and European Prints and Watercolors
Late 20th Century Bronze Sculpture by listed Artists
Edward Curtis Photogravures
Old Sheffield Plate Silver
100s of Stereo View Cards
Glass, China and Silver Plate
Carnival Glass, Cut Glass, Porcelain and China
A Large Group of Antiquarian Leather Books
Antique Oriental Rugs
A large lot of Silver and Costume Jewelry
A few fine gold Jewelry pieces
The Summer Collections Auction
Thursday, July 13th 2017
A large offering of Combined Collections including:
Antique Cast Iron Still and Mechanical Banks
Collection of Historical Autographs
Japanese Woodblock Prints
Maps and Historical Documents from the 17th, 18th and 19th Centuries
Sterling Silver Accessories
The Hanson Collection of Circa Mid 20th C. Syroco Novelties
Victorian and other Art Glass
Art Pottery, China, Glass and Collectibles
Waterford Crystal in Various Patterns
Silver Coins and Silver certificate Currency
Much more in this large offering!
Our 19th Annual Spring Art Auction
Friday, June 9th 2017
· Late 19th and Early 20th Century Paintings ·
· Tiffany, Loetz and French Cameo Art Glass ·
· Early to Mid 20th Century American Pencil Signed Prints ·
· Mid 20th Century Furniture and Accessories ·
· Modern Design by George Nelson, Jens Risom, Paul McCobb and Marcel Breuer ·
· Late 20th C. Op Art and Pop Art Works ·
· A Small Collection of Chinese Jade Carvings ·
· Emerging Artists and Artist's Estate Works ·
---
The Nineteenth Century Sale
A Variety of Antiques and Art from Local Estates
Sunday, May 21st 2017
Early 19th Nineteenth Century Wedgwood
Nineteenth Century Canes and Walking Sticks
Nineteenth Century Nautical Navigation Instruments
A Collection of Nineteenth Century Stereo Graphoscopes
Nineteenth Century Stereo Card Viewers
Late Nineteenth Century Black Forest Carvings
Good Nineteenth Century Victorian Art Glass
Nineteenth Century Lithographs of Native Americans
Nineteenth Century Portraits and Oil Paintings
Nineteenth Century Coin Silver
Early Nineteenth Century Old Sheffield Plate Silver
Late Nineteenth and Early 20th Sterling Silver Flat and Hollow Ware
Nineteenth Century Aubusson Rug (altered)
Circa 1900 French Furniture
More from the Nineteenth Century!
---
Fred and Kathy's Large Eclectic Auction
Saturday, April 29th 2017
Both cataloged and un-cataloged Antiques, Collectibles and Americana including:
Fine and Costume Jewelry
19th Century American Primitives on Old Original Paint
Early to Late 19th Century Immigrant's Chests
A Nice 19th C. American Butternut cupboard
Gold Crown Walking Stick
Vintage Carnival Canes
Common Marbles
Antique Toy Sewing Machines
Old Magazines
Royal Bayreuth
Heintz Art Metalworks
Stevensgraphs
Post Card Collection
Ephemera Collection
Early 20th Century Trade catalogs
Collection of Royal Doulton figures
Collection of Iron Fish Gigs
Doll-size and Miniature Furniture
Collection of Antique Sewing Accoutrements
Collection of Antique Linens and Decorative Handkerchiefs
Majolica Pottery
Art Pottery
Early 1900s License Plates
Collection of Vintage Minnow Buckets
Containers of Old Buttons
Coronation Collectibles Beginning Early 20th Century
Vintage Tins and Candy Boxes
Vintage and Antique Purses
Lucite Purses
Antique Glass and China
Early Ceramics
Duck Decoys
Victorian Art Glass
Vaseline Fish Bowl Stand Circa 1930
Toys and Candy Containers
Folk Art Hooked Rugs
Prints
Old Photos
ANGEL ESPOY (American, 1879-1963) Oil on Canvas
Kay Finch Ceramics
A Kesi finely-woven Chinese Pictorial Silk Tapestry
Brownies Collectibles
Steuben Aurene and Tiffany Favrile Art Glass (one small piece each)
Limbert Oak Desk
Inkwells
Antique quilts
Mission furniture
Iron boot scrapers
Antique wood shaft golf clubs
Collection of antique calendars
Vintage Western theme pulp publications
Native American weavings, beadwork, baskets, etc. most of later vintage or more common type.
A large collection of interesting textiles, needlework and lace from the 19th and early 20th centuries
Oil on canvas paintings
African Yoruba beaded ceremonial belt
There's More!
---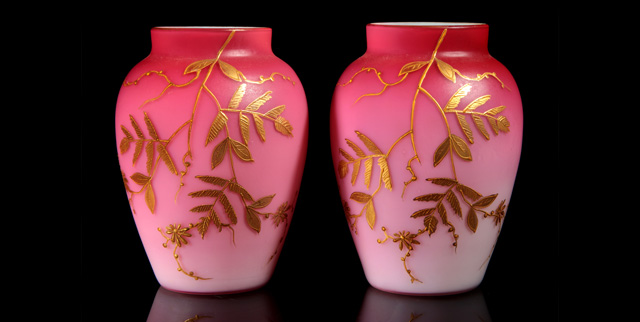 Estate Auction of
Art Glass and Ceramics
Saturday, April 8th 2017
Selections from the McIntyre Living Estate, more from the Laverne Bates Trust and introducing the Hanson Collection, a massive hoard of 1000s of interesting Items to come throughout 2017.
Highlights Include:
Victorian Art Glass
Bride's Baskets
A Collection of Heisey Orchid Pattern Crystal
Great Stained Glass
Unique Art Deco Pieces
Mettlach and Other European Ceramics
Mettlach and other Antique Steins
RS Prussia and Other Porcelain
Cut glass
Flow Blue
More!
---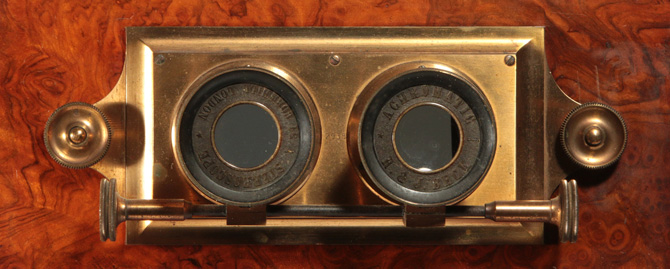 Clocks, Stereographica, Canes and Mechanical Music
Sunday, April 2nd 2017
Featuring property from the estates of Henry Pierce and Allen Ray.
A Large Collection Floor and Tabletop Stereoscopes
A Collection of Antique Walking Sticks
Regina and Other Disk Music Boxes
Edison Cylinder Music Boxes
Scientific Instruments
Antique Clocks including Lemuel Curtis Girandole 'Number Five,' an extremely rare original signed version of the classic girandole banjo clock patented by Curtis in 1816.
---
19th and Early 20th Century
Decorative Arts and Jewelry
Saturday, March 25th 2017
Highlights from Topeka
and Kansas City Estates:
Antique Asian Porcelain
Continental Bronze Objects
Fine Diamond Jewelry
European Pine Furniture
Rugs and Textiles
Porcelain and Crystal
Art Nouveau Sterling Silver
Continental Carved Wood Objects
---
Bradford's Antiques Retirement Auction
Saturday, March 18th 2017
After 40 Years in the business, Bradford's Antiques of Liberty, Missouri is closing their doors. Brad has always had a knack for finding the biggest, the best and the rarest of examples. And nothing ever made it to the shop that wasn't in excellent condition. Now, everything will be sold to the walls without reserve and to the highest bidder.
A Word From Brad:
"Dear Friends,
This Summer marks my fortieth anniversary in the antiques business, and I'd like to take this opportunity to express my deepest appreciation for all your support over the years. When I first started out in 1976 at Marin City, California's famed flea market, I never in my wildest dreams imagined I could make it this far, and yet here we are, four decades later...

Seize this opportunity to score the best of the best:
Figural Oak and Mahogany Furniture by Horner, Karges & Others
Exceptional Country Store Pieces
Rare Forms of Stack Bookcases and Leaded Secretaries
Early 20th C. Lighting by Handel, Pairpoint and Others
Rare Victor Phonographs with Wood Horns
Rare Columbia Phonographs with Wood Horns
1950s Juke Boxes and Slot Machines
Art Pottery and Majolica
Victorian and Other Art Glass
Rugs, Prints, Jewelry and More
---
Country Store | Coin-Op | Advertising
Combined Estates Auction
Saturday, March 11th 2017
A wide range of 19th and Early 20th Century Americana to include:
Early Country
Vintage Advertising
Military Patches and Photographs
Tin, Porcelain and Paper Signs
Country Store Tins and Bins
Steins and Breweriana
Christmas, Halloween, Toys, Nutcrackers and More
---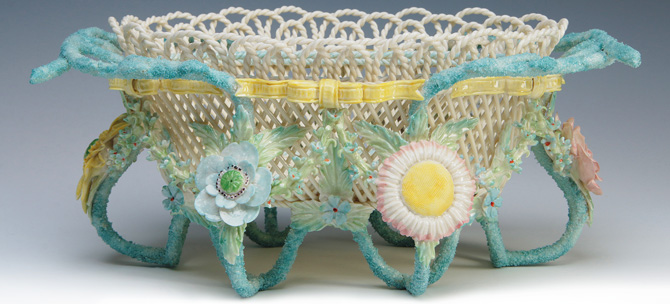 Major Two-Ring Antique Auction
Victoriana!
Saturday, February 25th 2017
The contents of The Vintage House restaurant; out-of-the-ordinary Furniture, Accessories and Collectibles from the Victorian Age, plus the contents of the Theodore Sexton Estate and the Laverne Bates Trust.
More than 700 lots sold!
Highlights from both auction rings include:
Large Walnut Triple Book Cases
Heavily Carved Side Boards and Armoires
Out of the Ordinary Chandeliers and Lighting
Five American Brilliant Period Cut Glass Lamps
American Brilliant Period Cut Glass Collection
Victorian Art Glass and Bride's Baskets
Unusual Early American Pattern Glass
Classic Carved Figural Victorian Walnut Shelves & Stands
Bride's Domes and other Victorian Accessories
Fine, Rare and Out of the Ordinary Irish Belleek Porcelain
French Sevres-style Bronze Mounted Porcelain Items
Bronze and Spelter and Statuary New and Old
RS Prussia Icicle Mold Four Swans Pieces
Sterling Silver Souvenir 'Forks'
Inkwell Collection
Antique Quilts
Antique Toys and Trains
Herend and Fostoria China and Crystal Sets
Sterling Silver Flatware Sets
Victorian Banquet and Organ Lamps
Mantle Lustres
Stoneware
Antique Crystal Candelabra Sets
Antique Mirrors
Antique Clocks
Paintings and Prints
Antique Oriental Rugs
Seventy-five Pieces of Antique Furniture
Cameo Glass
Pair Large Waterford Achill Crystal Table Lamps
Large Black Forest Cuckoo Clock with Fox
---
Internet | Telephone | Absentee Auction
Six Estate Collections
Friday, February 10th 2017
Contemporary Native American Pottery | A Collection of Nippon Porcelain
Watercolors from the Jack O'Hara Estate | Large Lladro Porcelain Figures
The Bob Barrett Estate Photography Archive
A Collection of 1400 Straight Razors
---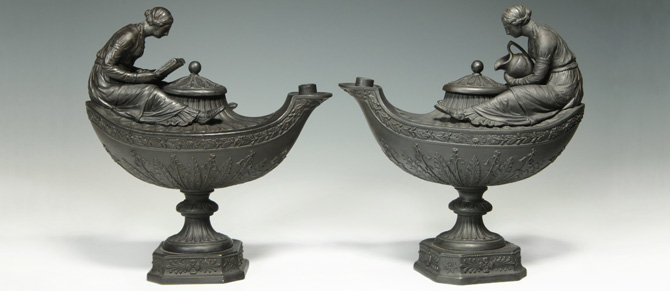 Estate Auction
The Pat Bockelman Trust
Saturday, February 4th 2017
• Hundreds of Examples of Early Lighting •
• Mid 20th C. Studio Pottery •
• French Cameo Art Glass •
• Arts and Crafts Lighting •
• A Formidable Collection of Doulton Lambeth •
Nearly All of the Uncatalogued Lots are Antiques Including:
Stevensgraph Bookmark
Roseville Donatello Pottery
Many Aladdin Lamps in Various Colors and Combinations
Aladdin and other Chimneys
19h Century Sandwich Glass
Asian Ceramics
1920s Mica Shade Floor Lamps
Victorian Organ Lamps
Whale Oil Lamps
Other Early Fluid Lamps
Victorian Banquet Lamps
Flow Blue Lamp
Miniature Lamps and Mini Lamp Shades
Lamps with Contemporary Art Glass Shades
A Collection of Clear Paneled Heisey Glass
Antique Royal Doulton
Early Brass Lighting
18th Century Delft Vase
Cosmos Lamp Base
Skater's Lanterns
Miscellaneous
Jewelry
Many Antique Mosaic Pins
Native American Jewelry
Sterling Silver Crosses and Other Jewelry
Long boxed strands of Cloisonné Beads
Turquoise Jewelry
Carved Jet Jewelry
Gold-filled Antique Jewelry
Many Different Types of Semi-Precious Mineral Beads
Various Types of Asian Jewelry
Costume Jewelry
Sterling Bead Jewelry
Coral Jewelry
A Collection of Micro Mosaic Pins and Jewelry
Malachite and Lapis
Wedgwood Jewelry
A Collection of Wallace Sterling Silver Ornaments
Victorian Jet Jewelry
Carved Carnelian Pendants
Wallace 'Peace Doves' Sterling Ornaments
Bert Nienhuis Enamel Sterling Danish Modern Pendent
---